Should we stay or should we go?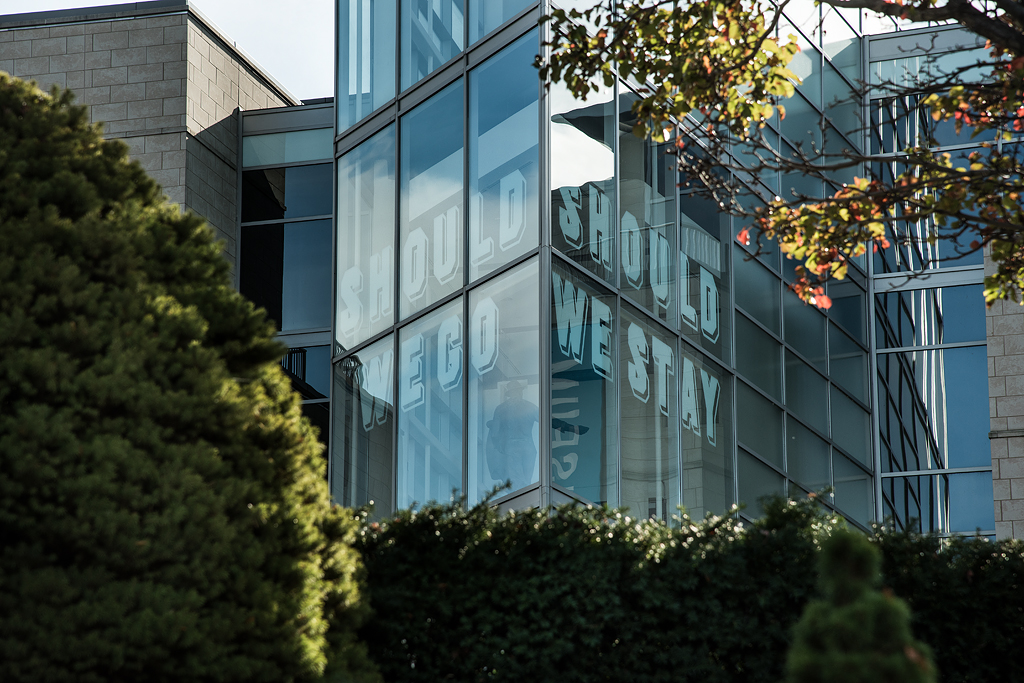 Photo by Frank Piccolo, courtesy of the Art Gallery of Windsor

Should we stay or should we go? is a large-scale text piece on the Detroit-Windsor border that explores how spatial and social conditions affect our sense of place. The project evolved from the artist's research into Black geographies in Detroit and Windsor and their intersection with patterns of migration and mobility within her family history. Thompson's ancestors escaped to Canada through Detroit, settling in Windsor and Chatham-Kent, and later in Windsor, Detroit, Chicago and Toronto.
Printed in a modern recreation of 'Gothic Shade', a typeface produced by the Dickinson Type Foundry in the 1850s (later named 'Jim Crow'), the piece references the advertisements placed by slave owners as well as the confrontational, provocative ads of African American designer, Archie Boston, which leveraged the visual language of these advertisements to promote his firm.
The idea of whether to stay or to go can be driven by opportunity, instability, change or simply the need to move on. The duality of the typeface and text, as well as its cultural legibility and its placement in on the border generates a complexity that echoes the shifts in population that have shaped both countries.
As we cast a weary side-eye to a year when dialogues around mobility were amplified by social, political and environmental precarity, Should we stay or should we go?'s provocation draws us together in the places we call home. This project was produced for Downtown/s – Urban Renewals Today for Tomorrow, Windsor-Essex Triennial of Contemporary Art at the Art Gallery of Windsor.